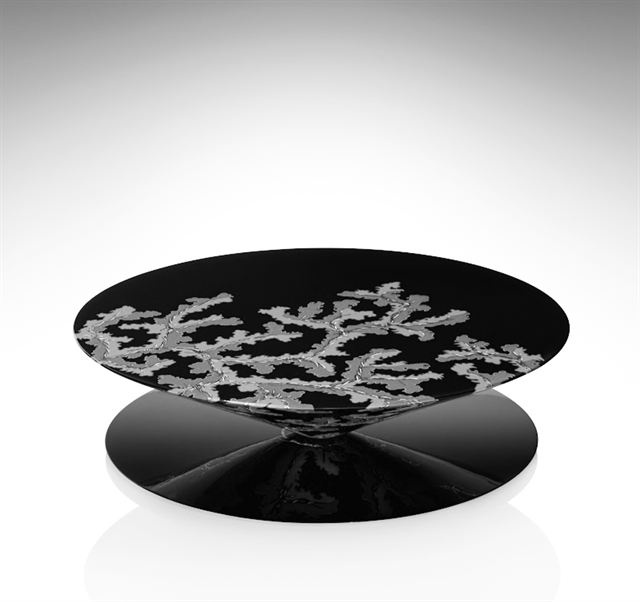 HÀ NỘI — A handmade lacquer work from Việt Nam has become the first contemporary handicraft object from Southeast Asia to be displayed at the Guimet Museum of Asian Art in Paris.
Titled Borderline, the symbol of the creativity of Vietnamese craftsmen will reportedly be displayed later this year. 
It is a collaborative work between Paris-based Vietnamese actress and designer Trần Nữ Yên Khê, and Vietnamese haute lacquer house Hanoia. While the sketch was done by Khê, craftsmen of Hanoia turned her drawing into a sophisticated work of art.  
According to the designer, known more as an actress married to Vietnamese-French director Trần Anh Hùng, Borderline expresses the line between the past and the present, and between tradition and modernity.
Based on the shape of the Vietnamese traditional conical hat, nón, it has a functional value as a tray, but is also an example of traditional culture expressed through contemporary design.
On the conical form runs a brilliant vegetal pattern in perfect harmony with a lacquered background of the drawing of a barbed wire fence inlaid by gold leaf made at Kiêu Kỵ Village on the outskirts of Hà Nội.
The designer said the idea for the decorative pattern came from the flowery bushes that grow around barbed wire fences, something she saw across rural Việt Nam.
The wire is also a symbolic image evoking the hot topic of immigration. The bold colours of red and orange not only evoke the image of Buddhist pagodas, they also present the activeness of contemporary Vietnamese society.
The one-off piece took three months in 2017 to complete.
Before Borderline, the Guimet Museum of Asian Art also displayed a large number of other antique objects from Việt Nam, including a Buddha statue dating back to the 6th century, a bronze drum from the Đông Sơn Bronze Age Culture (1000 BC – 1st century AD), and Chu Đậu pottery pieces (14th-17th century).
Housed in the 16th district of Paris, the Guimet Museum of Asian Art has one of the largest collections of Asian art in the world. Opened in 1889, the museum features a collection of more than 50,000 objects of various Asian cultures. — VNS