HÀ NỘI Miss Capital ASEAN 2020 will be held in Việt Nam with the participation of contestants from the association's 10 member countries in April next year.
The beauty pageant is organised by Đa Biên Group to celebrate Việt Nam's role as the ASEAN chair in 2020 and to promote friendship and unity in ASEAN.
"The contest will aim to connect and respect the cultural and heritage values of ASEAN member countries," said Nguyễn Thị Tâm, a representative from the organisation, at a press conference in Hà Nội on Wednesday.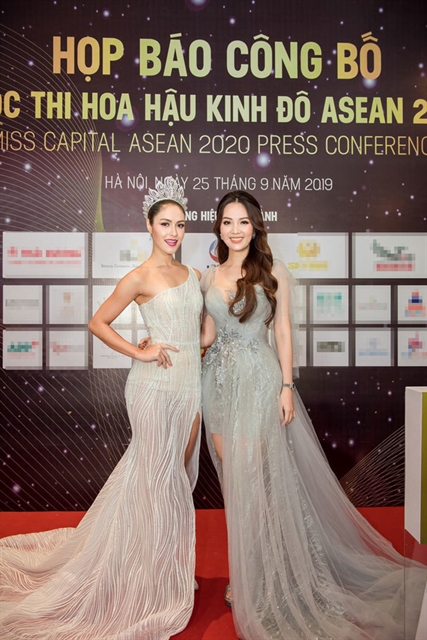 "We hope this contest will be a chance to introduce the history, country and people of Việt Nam, as well as its economic and tourism potential to the world," said Tâm.
Young women from Cambodia, Myanmar, Brunei, Singapore, Indonesia, Thailand, Laos, the Philippines, Malaysia and Việt Nam will be able to register for the contest from November 11 to February 15, 2020.
The semi-final round will be held in Việt Nam. The regional semi-final round will take place in the Philippines and in Thailand.
The final round will be held from April 15 to 27 in the northern province of Ninh Bình's Tràng An Complex.
The contest is open to all ASEAN females aged from 18 to 27 standing over 165cm. They must be single or divorced, and are not allowed to have had children or hold a criminal record. Cosmetic surgery and transgender applicants will not be accepted.
Each ASEAN country will have five contestants recommended by their respective embassies based in Việt Nam.
In the final round, contestants will face a talent competition, a question and answer session and dress performance.
In the talent competition, the contestants will have choices to perform a traditional song or dance, or introduce their traditional cuisine. Plus, they will have to make a presentation about their national culture.
The dress performance will include the Vietnamese áo dài and an evening gown.
Miss Capital ASEAN 2020 will win a cash prize of VNĐ300 million, with the second and third placed contestants taking home VNĐ200 million and VNĐ100 million respectively.
Other titles will include Miss Heritage, Miss Talent, Miss Tourism, Miss Áo Dài, Miss Communication and Miss Asean Fashion. 
The final night will be aired live on Việt Nam National Television, Lao Television and Thai Television.
Miss Capital ASEAN was formed from Miss Việt Nam Capital which was first held in 2006. VNS