THANH HÓA Archaeologists from Việt Nam Archaeology Institute and authorities in the central province of Thanh Hóa have just announced results of an excavation at Triệu Tường Mausoleum Relic Site proving the site's historical significance.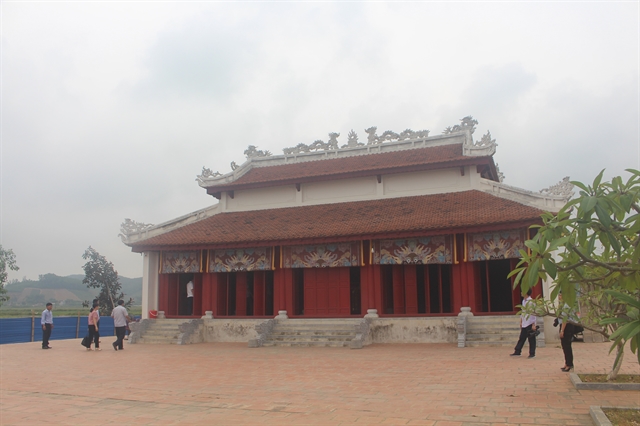 Triệu Tường Mausoleum was built by King Gia Long (who reigned between 1802 and 1820) in 1803 at Gia Miếu Village, Hà Long Commune, Hà Trung District.
The site was the homeland of nine lords and 13 kings of the Nguyễn Dynasty.
The site, which was built over a large area, has special values in archaeology and art with abundant decorative sculptures and carvings.
The site has been almost destroyed many times and there remain only remnants of the foundation.
A recent excavation explored the remnants of the northern citadel wall and gate; eastern wall; western gate; southern gate; wall of temples; subordinate gates and other structures like a small temple, half circle lake, bridges and lotus lake.
Archaeologists found that the foundation of the northern and northeastern wall is almost intact, which runs 80m in length and 1.8m in width.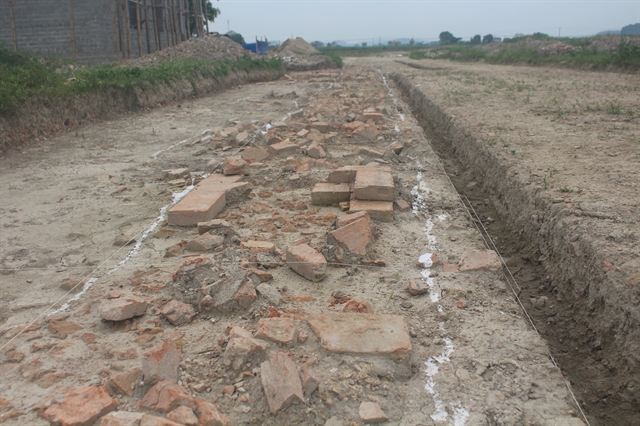 Inside the northern gate, archaeologists found remnants of two guard towers on the left and right.
A great number of objects have been unearthed including building materials, ceramics, terracotta and metal. Among them, nearly 3,000 pieces are broken bowls, jars glazed in brown, and white background with blue drawings, which date from between the 16th and 20th centuries.
Prof Tống Trung Tín, chairman of the Việt Nam Archaeology Institute, said unearthed objects and foundations reveal that the mausoleum site has a different structure and uses more sophisticated building techniques than any other ancient mausoleum found in the country.
Historical books mentioned that the mausoleum has walls around the outer boundary, then a canal, then the citadel wall again surrounding worship temples with Nguyên Miếu in the centre.
Tín said Triệu Tường Mausoleum is somewhat similar to Thế Miếu in Huế.
"Thế Miếu worships Nguyễn kings and lords while Triệu Tường Mausoleum worships ancestors of Nguyễn dynasty at their homeland, which hosts the tomb of Great ancestor Emperor Nguyễn Kim," Tín noted.
"Results of the excavation have provided many important scientific materials for doing research on royal mausoleums system of Nguyễn Dynasty in Thanh Hóa Province, in particular, and Việt Nam, in general," he said. "The information will be crucial for renovating the sites in the future."
Tín said Triệu Tường Mausoleum up to now is the only intact royal worship site in Việt Nam.
"Thanh Hóa Province should make a dossier to submit the culture ministry to recognise Triệu Tường Mausoleum as a National Relic Site," he said.
He suggested concerned agencies to care comprehensively to preserving the site. — VNS