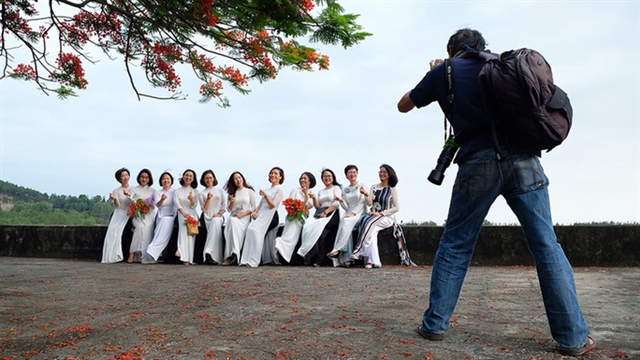 HCM CITY — A professional organisation that protects the right of local photographers is badly needed as copyright infringement of photos has become increasingly sophisticated, experts have said.
The HCM City Photography Association recently drafted a petition on the issue of copyright infringement in photography and sent it to authorities in an effort to prevent copyright violations. 
More than 450 members of the association signed the petition and requested authorities to be more mindful when it comes to approving photographic images of art performances on LED screens, which are often used for advertising. 
According to Người Lao Động (The Labourer) newspaper, photo piracy has become very sophisticated. Many social media users, communication agencies and art performances have taken photos from Google or photographers' Facebook pages for personal use without permission.
Various consumer products, advertising sites, online newspapers and printed leaflets promoting fashion, tourism and food have even used copyrighted photos for commercial purposes. 
As the 2021 calendar season market is now kicking off, photo privacy will occur more frequently. 
"There are clients that pay for one-time use of my photos, but they continue using them multiple times," photographer Nguyễn Á said.
Photographer Phan Thông Anh added that there are cases in which certain businesses are asked to remove copyrighted photos from their advertisements, but they only apologise or just take the online photos down. But the photos are printed in thousands of leaflets circulating around the country.
Some photographic work is even copied before being released and entered into national and international competitions. Many photographers are upset that as soon as their photos are mistakenly used for commercial purposes, they cannot register for the competitions.
Artist Đào Hoa Nữ said that photography is an art that requires serious effort and financial resources to invest in quality equipment.
Legal protection
Photographers and members of the HCM City Photography Association said that hundreds of photos of birds were used in 200 copies of the Vietnamese Bird book, worth VNĐ1.2 million per copy, but photographers were not paid for their contributions.
This practice could also be seen in the book titled Collection of Beauty Scenes in Việt Nam. About 300 photos highlighting the local culture and people from 56 ethnic groups in Việt Nam were publicly "stolen".
In response to negative reaction from many local photographers, some publishers have decided to withdraw some titles from the shelves. However, many copies that have already been sold cannot  be retrieved, and they are still being copied for other commercial purposes.
The HCM City Photography Association is taking the initiative to protect the benefits of its members.
Hoàng Thạch Vân, permanent deputy chairman of the association, said the association has asked lawyers to prepare documents related to the copyright infringement issue and to submit them to relevant authorities.
"The most radical solution is to connect with authorities who are in charge of licensing. It is very crucial to have an organisation that professionally protects the right of local photographers," he added. — VNS