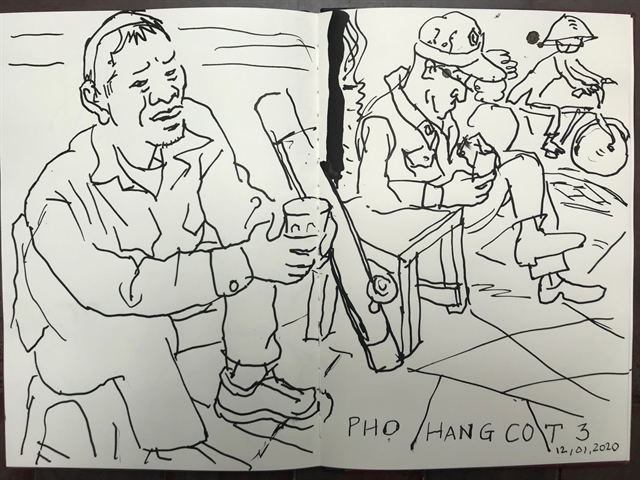 HÀ NỘI — French artist Jean-Charles Sarrazin will present his drawings of Hà Nội at the French Cultural Centre (L'espace).
A total of 12 black and white pen drawings were made when the artist attended the Hà Nội Art Connecting event last year.
This is the artist's view of Hà Nội where he once spent time living and studying at the University of Industrial Fine Arts in the late 1980s.
The exhibition, entitled Unchanged Hà Nội, includes the artist's latest work. In a drawing made on January 12, he sketched two old men sitting at tea shop on Hàng Cót Street and a woman riding a bicycle.
The drawing, entitled Phố Hàng Cót 3 (Hàng Cót Street 3), is a reminder of old Hà Nội, as now it is difficult to see a bicycle in Hà Nôi streets.
"Like my books, my drawings all tell stories," said Sarrazin.
"In the years 1987-88, I had the opportunity to spend a year at the University of Industrial Fine Arts. At that time, there were bicycles in the streets and the country began its renewal process. It was when I sketched my first drawings in Việt Nam.
"If we don't mention the living conditions that have changed a lot now, along with many motorbikes, people will think that these paintings were made 30 years ago."
Sarrazine is currently an author and illustrator at l'Ecole des Loisirs Publishing House.
The exhibition is a part of a book-reading which will be held for the fourth time at L'espace. It will run from January 14 to 18 on the second floor.
The book-reading will take place in France and French culture centres around the world. In Việt Nam it will begin at 3pm on January 18 at L'espace.
As part of the event, artist Sarrazin will conduct a workshop for children learning French. He will help them draw and tell stories through their paintings.
At the workshop he will also introduce his two books which are translated into Vietnamese by Nhã Nam Publishing House. — VNS