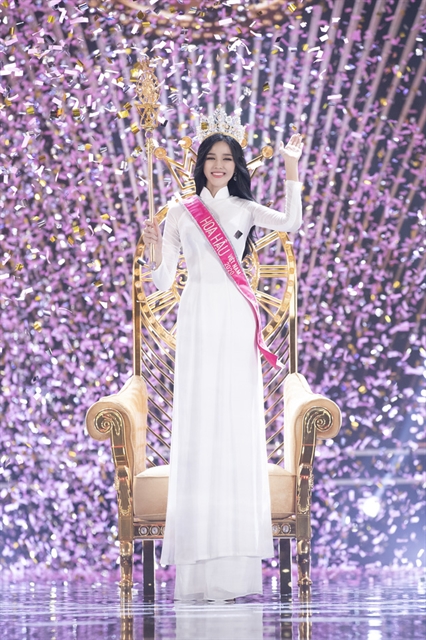 HCM CITY – Đỗ Thị Hà, a law student at the Hà Nội-based National Economics University, was crowned Miss Việt Nam 2020 in the grand finale in HCM City on Friday night.
Hà, 19, who was born in the northern province of Thanh Hóa, is 1.75 metres tall and has body measurement of 80-60-90 centimetre.
She defeated 35 other finalists from across the country to win the golden crown studded with 74 golden and white pearls and 1,918 golden and white gems, plus VNĐ350 million (US$15,000) in cash prizes.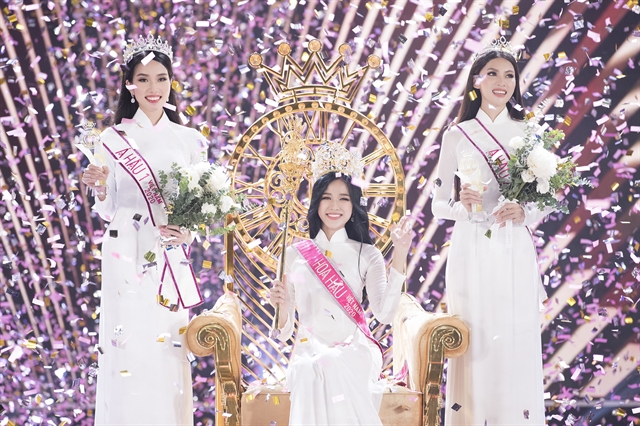 Phạm Ngọc Phương Anh of HCM City, 22, was named the first runner-up. The student at RMIT University Vietnam won Miss Áo Dài Việt Nam for high school students in 2015.
Nguyễn Lê Ngọc Thảo of HCM City, 20, was the second runner-up. She is a student at HCM City University of Technology.
In the grand finale, the finalists competed in categories of áo dài (Vietnamese traditional dress), swimsuits and evening gown.
During the decisive Q&A section for the top five finalists, Hà drew a question from the seven-member jury and was asked, "If you become Miss Việt Nam 2020, do you think you will be a role model for young women?"
In response, she said: "If I become Miss Việt Nam, I think have necessary and sufficient traits and qualities of a Vietnamese woman. Whether I am a role model to young Vietnamese people or not, I must be the one who motivates and inspires young people. I believe I can do it."
The biennial pageant Miss Việt Nam 2020 was launched by Tiền Phong newspaper in March.
This year saw thousands of young women aged 18 to 26 who are at least 1.65m tall competing in the preliminary rounds in Hà Nội and HCM City.  
The jury selected 59 candidates, who have had no cosmetic surgery, for the semifinal rounds in Hà Nội in October.
The contestants competed in the categories of traditional costume, swimsuit, evening wear, and two additional parts highlighting their talent and charity work.
Miss Việt Nam began in 1988 and is organised every two years. The contest encourages young women to demonstrate their talents in their careers as well as charity and social activities. — VNS