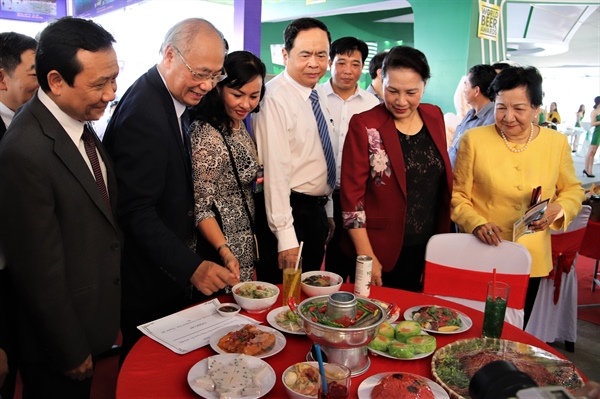 CẦN THƠ An international tourism fair – The VITM Cần Thơ 2019 – kicked off in the southern city of Cần Thơ's Ninh Kiều District on Friday.
The event is being held by the Việt Nam Tourism Association (VNTA) in coordination with Cần Thơ City's People's Committee and Department of Culture, Sports and Tourism.
National Assembly Chairwoman Nguyễn Thị Kim Ngân and others attended the opening ceremony.
VITM Cần Thơ 2019 is the largest tourism event to be held in the Mekong Delta.
The aim is to support local tourism businesses to build, promote and sell their products to make tourism a key economic sector in the region.
Speaking at the opening ceremony, vice president of the VNTA Cao Thị Ngọc Lan said this was the first time the VNTA in co-ordianation with Cần Thơ City's People's Committee had organised the fair.
"The fair is expected to create opportunities for local people, authorities and businesses to present their tourism products and local cuisine to domestic and foreign tourists to make tourism a spearhead for economy," Lan said.
About 320 booths run by international and Vietnamese enterprises, service facilities and destinations in 25 provinces and cities are taking part in the event.
There are also booths from South Korea, Japan, Malaysia, Thailand, India and Cuba.
The highlight of the fair will be the Mekong Delta Tourism Development Forum which will offer solutions for rapid tourism development.
More than 10,000 indoor and outdoors tours, 5,000 hotel rooms, air tickets and over 5,000 promotional vouchers with 20-50 per cent discounts are on offer to visitors from travel agencies and prestigious tourism service businesses such as Vietravel, Sagota, Saigontourist and Fiditour.
The fair also includes a food festival with culinary contests and a presentation of local specialties.
Chefs from all over the country will be making special local dishes at the festival.  
The fair will be running until December 12 at the Centre for Trade and Investment Promotion and Exhibition Fair at 108 Lê Lơi Street. VNS