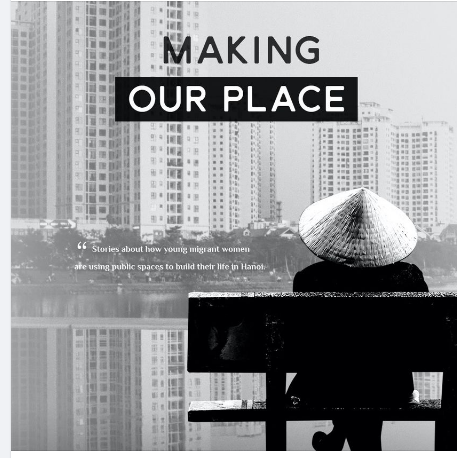 HÀ NỘI  Documentary Lên Thành Phố (Making Our Place) has won the Best Next Gen Film award at the 2020 Better Cities Film Festival. 
The film was co-produced by the Vietnamese Women's Museum and Health Bridge Việt Nam about young female labour migrants moving from rural to urban areas.
It was shot in three months with seven young characters aged 16 to 29 from the northern provinces of Nam Định, Vĩnh Phúc, Phú Thọ and Quảng Ninh and the central city of Đà Nẵng.
In Việt Nam, more than 6 million people move from rural to urban areas every year. Hà Nội is a major destination. Building a life in Hà Nội, if only for a short time, is a challenging task for these young women. 
The film shows having the possibility to use free, safe and accessible open public spaces in the city contributes to the wellbeing of young female migrants in Hà Nội. 
These women, however, face multiple obstacles to access such spaces in Hà Nội. 
"This short documentary opens a window on these young women's relationships to Hà Nội's public spaces," said director Trần Thị Kiều Thanh Hà. 
"On the obstacles they face in trying to use them, and on their aspirations as temporary or permanent denizens."
In the film, the young women tell about their dreams such as having new friends, sympathy, safety, to be respected and treated fairly. 
The film was directed and edited by Hà, Lê Cẩm Nhung and Danielle Labbe under the Tryspace project. 
The Best Next Gen Film is one of 25 official awards at the festival including Grand Prize, Best Feature Film and Best Short Film.
Best Cities Film Festival was originally founded by Joshua Paget in 2013 as the New Urbanism Film Festival with a vision to move that conversation onto the silver screen and into the streets, engaging the broader community in the vital work of place making and neighbourhood revitalisation.
Film entries were judged by an international panel of esteemed urbanists, architects and filmmakers.
During its five-year run in Los Angeles, the festival received more than 700 submissions from all over the world, and screened some 200 films, pairing them with experts who helped lead post-film discussions about the local built environment. – VNS