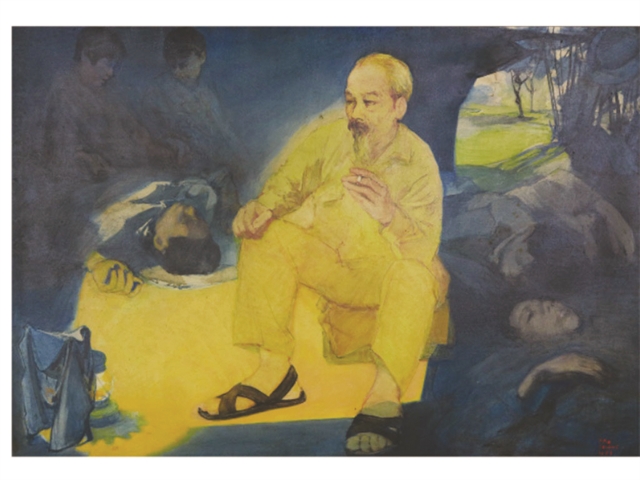 HCM CITY  The late President Hồ Chí Minh and Vietnamese soldiers are featured in paintings at a new exhibition at the Ngõ Art Gallery in HCM City. 
The event called Đất Nước và Con Người (The Country and People) introduces 62 paintings by 12 veteran artists, such as the Nguyễn Cao Thương, Ngô Đồng and Hứa Thanh Bình. 
Many of the artists' works highlight President Hồ and patriotism. Themes of Vietnamese culture and lifestyle are also included. 
Thương's oil painting entitled Đêm Nay Bác Thao Thức (Uncle Hồ Doesn't Sleep Tonight), released in 1995, portrays President Hồ with his white beard and hair as he sits late at night, deep in thought, while his guards are sound asleep around. The picture spotlights the President the great leader and his remarkable ideas for achieving his country's freedom.
"Đêm Nay Bác Thao Thức is one of Thương's best works. The picture is very unique and very Vietnamese," said Nguyễn Công Thức, a visitor who attended the exhibition's opening ceremony on May 19, the President's birthday.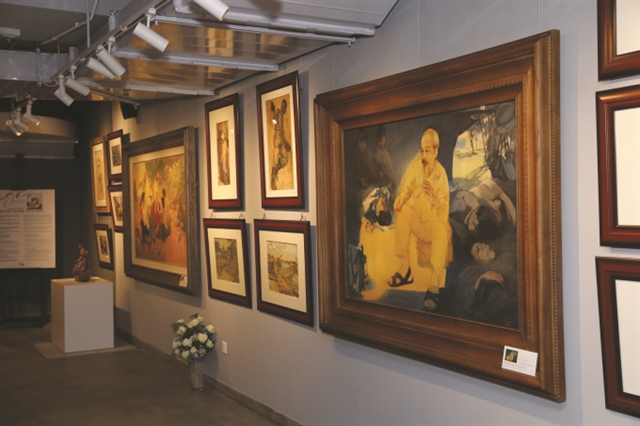 Other works by Thương, such as Bám Biển Ra Khơi (Reaching to the Seas), released in 1965, and Tình Đồng Chí (Comradeship) in 1974, highlight the beauty of Vietnamese characters. 
Thương studied at the Indochina College of Fine Arts, established in 1925 during French colonial time in Hà Nội. 
He served as a soldier in the anti-French war and was one of the artists who established the Việt Nam Fine Arts' Association in 1957. 
In 1962, he went to Russia to study art in Moscow, . 
In 1978, he was the principal of the Đồng Nai School of Fine Arts and Decorations. 
Thương won several top prizes and awards from fine arts associations at home and abroad. He was honoured with the State Prize for Literature and Arts presented by the Government in 2012. 
"Viewers gained new experiences and passion after visiting  Đất Nước và Con Người at Ngõ Art Gallery. The exhibits are different in materials and themes but share the same topic of love for the country and people," artist Hứa Thanh Bình, former deputy director of the HCM City Museum of Fine Arts, who also sent his work to the event. 
Đất Nước và Con Người opens until June 19,  9am to 9pm every day at Ngõ Art Gallery at 21 Võ Trường Toản Street, Thảo Điền Ward in Thủ Đức City.   VNS