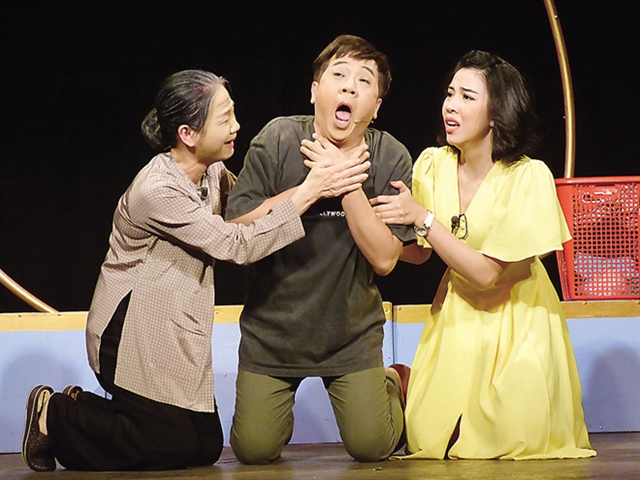 HCM CITY –  A play about belief and betrayal by Nguyễn Thị Minh Ngọc, one of HCM City's region's leading female writers, will make its debut on Sunday in the city.
The tragi-comedy Mặt Nạ Bong Bóng (Mask of Balloons) will be staged by the actors of IDECAF Drama Troupe in a Saigonese style that fans find attractive  It is directed by Vũ Minh, a well-known theatre director who has more than 15 years of experience in the industry.  
Minh said he and his staff had worked hard to incorporate simple and humorous language to meet the tastes of their audiences in the city.
Mặt Nạ Bong Bóng features a balloon seller named Bạch who has supernatural powers and believes his job is to bring laughter to the world until life disabuses him of his view.
Bạch goes from street to street selling his coloured balloons. He helps and protects people and children from bad things.
One day, two bad guys use him for evil intentions, so Bach asks for help, but no one offers it.
Bạch wonders why bad things happen to good people. "Did I live the wrong way?" he asks.
In the last scene, Bạch, however, says that "nothing should hold you back and remember I'm here to help you".   
"My play involves the loss of many values related to love, belief and kindness," said the play's director Minh.  "The story of Bạch is a measure of human nature today."
Minh invited veteran actor Thành Lộc to play the role of Bạch. "Lộc brings an energy and passion to his performance which is extraordinary in people so young," Minh said.
The play also features young talents Trường Thị and Phương Anh.  
Mặt Nạ Bong Bóng will be staged at 8pm on Sunday (Nov 10) at IDECAF Drama Troupe on 28 Lê Thánh Tôn Street in District 1. It will be staged at the theatre every Saturday and Sunday through December.  Tickets are available at the box office. — VNS