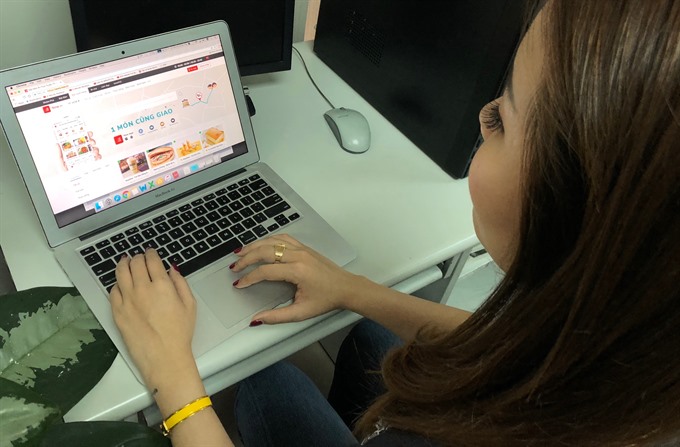 A staff in HCM City orders food through a website. The technological changes are changing the lifestyles of Vietnamese. VNS Photo
Viet Nam News
by Thu Ngân
Trần Mỹ Tiên is a hard-working employee of a famous bank in HCM City.
Looking at her outstanding performance, no one can believe the 30-year-old has another job on the side: she is the co-owner of a coffee shop called Cái Lò Gạch Cũ in District 11 that opened several months ago.
Talking about how she manages to juggle two jobs at the same time, she merely said "technology".
She was referring to the phone applications she uses to monitor everything in the shop like cash flow, revenue growth, supply sources, and others.
While many people may not understand industry 4.0 and other technological changes, they are clearly sweeping across the country.
On the one hand, there are many conferences on esoteric concepts like big data, cloud, Internet of Things, and artificial intelligence, on the other, these have already entered daily life to benefit users.
Tiên is one of those benefiting from the hi-tech revolution.
"I don't know much about 4.0 but it is true that modern technology, including phone applications and social media like Facebook, have helped me much in doing business."
She told Việt Nam News: "Modern technology has enabled me to manage the coffee shop from far away so that I can do many jobs at the same time."
She uses two apps for the task. They also help her calculate the volume of materials required and show her which the peak business hours are so that she can organise promotions.
On the website of the World Economic Forum, Joe Kaeser, president and CEO of Siemens said: "The fourth industrial revolution is transforming practically every human activity: the way we make things, the way we use the resources of our planet, the way we communicate and interact with each other as humans, the way we learn, the way we work, the way we govern, and the way we do business. Its scope, speed and reach are unprecedented."
Obviously, the technological changes are changing the lifestyles of Vietnamese so quickly that many people feel they can't live without the tools technology provides and they benefit greatly from them.
Even a few years ago no one thought they could buy a bubble tea or a meal without going out of the office or at least making a phone call.
Food delivery apps now do all this for them.
If we go to a beverage shop or restaurant in big cities like HCM City and Hà Nội, it is easy to see people in uniforms ordering food and beverages.
They are staff of food-order delivery apps like Now.vn and Grab Food buying food and drinks for customers for delivery.
Đỗ Minh Phương of HCM City's District 7 told Việt Nam News that "technology is now indispensable" in her life.
She uses the food delivery services frequently when "I want a bubble tea in the afternoon but cannot leave the office or want to buy fresh food but do not have enough time to go to supermarket or market."
"Modern technology is making life easier for people," Phương said.
Another app that is of great benefit is the one for hailing motorbike taxis.
In recent years this service has become popular around the country and provides employment to many people.
A spokesperson for a new motorbike taxi hailing app, GoViet, told Việt Nam News that after a six-week test period the company had signed up 3,000 drivers in HCM City and Hà Nội.
There were 1.5 million downloads during this period, he said.
Đỗ Kim Ngọc, a senior citizen living in Hà Nội, said "motorbike hailing is a very useful service".
"They are always ready, I can now go around the city without waiting for my children to take me when they are free."
A shipper from Lalamove said it was easy for him to find a job thanks to modern technology.
He said he had applied for a job at a major automobile company and while waiting for it he decided to work as a shipper for Lalamove.
He had to thank technology for the opportunity, he added. VNS