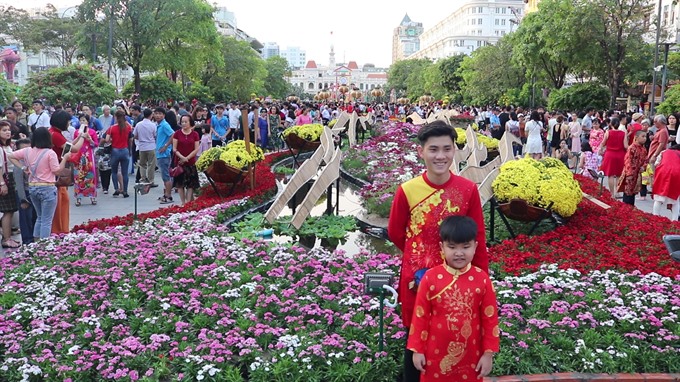 Families visit Nguyễn Huệ Flower Street, a popular attraction in HCM City during the Tết (Lunar New Year) holiday. VNS Photo by Việt Dũng
Viet Nam News
HCM CITY – HCM City's most popular attractions during the Tết (Lunar New Year) festival welcomed millions of local and foreign visitors from February 2-10.
Nguyễn Huệ Flower Street attracted 1.7 million visitors during its seven-day opening from February 2-8.
The 720-metre flower street, with the theme "HCM City – Thành Phố Vươn Xa" (HCM City – Rising City), extended from the statue of President Hồ Chí Minh in front of the People's Committee building to Tôn Đức Thắng Street.
Visitors especially liked the models of pigs made of flowers, plastic or wood to celebrate the Year of the Pig.
More than 100 kinds of flowers, including chrysanthemums, roses, orchids, azaleas, lotuses and cacti, were used in the flower arrangements.
The Tết Book Fair, another Tết attraction, also attracted more than 700,000 visitors.
The book fair was organised on three streets downtown: Mạc Thị Bưởi, Nguyễn Huệ and Ngô Đức Kế, showcasing 100,000 copies of books about literature, history, economy, politics, culture, science and technology.
It also included several exhibitions displaying books, documents and photos on the building and development of the 320-year-old HCM City, and dozens of special publications for Tết by the city's major newspapers and magazines, including Trẻ (Youth), Thanh Niên (Young People) and Sài Gòn Giải Phóng (Liberated Sài Gòn).
The city's annual biggest flower fair, Tao Đàn Spring Flower Festival, welcomed more than 1 million visitors this year.
The fair displayed more than 5,000 indigenous and foreign flowers, ornamental fish, bonsai plants and trees. It was open from January 30 to February 10 on Nguyễn Thị Minh Khai Street in District 1. – VNS