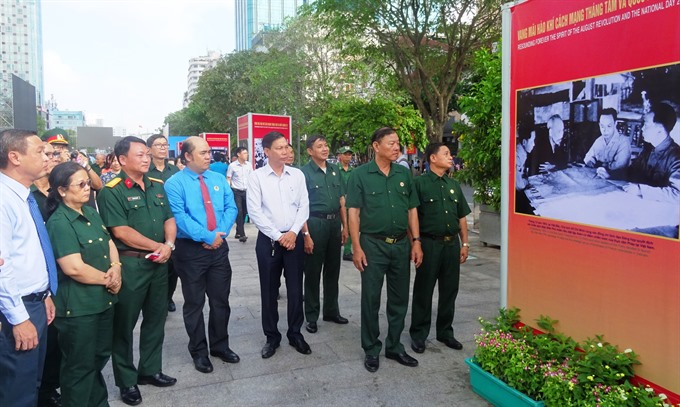 Visitors view the exhibition showcasing images of the Vietnamese people's struggle for independence at Nguyễn Huệ Pedestrian Street in District 1. — VNA/VNS Photo by Gia Thuận
Viet Nam News
HCM CITY —  HCM City yesterday launched two photo exhibitions to celebrate the 73rd anniversary of the August Revolution, on August 19, and National Day, on September 2.
The exhibition at Nguyễn Huệ Pedestrian Street in District 1 showcases a collection of more than 100 black-and-white and colour photos and documents on the Vietnamese people's struggle for independence.
Half of the display includes images of the Communist Party, President Hồ Chí Minh, soldiers and people in the resistance war to liberate the country from 1930 to 1975.
The other half includes images of HCM City's achievements in economy, society and culture, and international integration, after liberation and 30 years of Đổi Mới (Renewal) policy.
"After liberation, the country gained great achievements in economy, culture, society, and infrastructure, which created the prerequisite for the nation's cause of modernisation and industrialisation to make the country stronger and wealthier," said Huỳnh Thanh Nhân, director of the city's Department of Culture and Sports.
Another exhibition "Việt Nam Mến Yêu" (Beloved Việt Nam) has been installed along Đồng Khởi Street in District 1
The event displays 50 photos that depict beautiful landscapes of Việt Nam, including World Heritage Sites such as the complex of Huế Monuments, Hạ Long Bay, Hội An Ancient Town, and Phong Nha – Kẻ Bàng National Park.
Photos of World Biosphere Reserves like Cát Bà Island, Cát Tiên National Park and Cần Giờ Mangrove Forest are also featured.
The exhibition also presents photos of people who live across the country.
The two exhibitions will run until September 10. — VNS