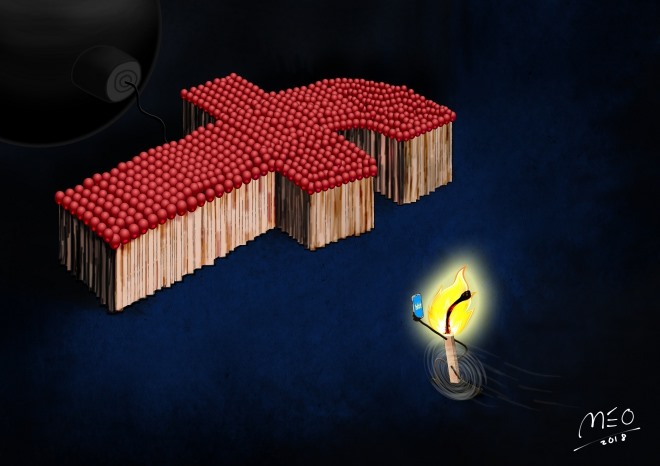 The winning piece of art, Chực Chờ by Lê Diệu Bang. — Photo thethaovanhoa.vn
Viet Nam News
HÀ NỘI — Lê Diệu Bang was presented with the top prize at the Bamboo Dragon Cup, the Việt Nam Press Caricature Contest, on Friday in Hà Nội for his work Chực Chờ (Biding Time).
Bang, from the central province of Quảng Trị, drew a Facebook logo made of matches. Nearby, a user is waiting to release some "hot" information. The user is like a burning match that can light up the social network, which is also in a state of waiting.
"People should be aware of the impact of the information they post on social networks like Facebook, and they should know how to control it," said Bang. "I want to warn social network users about information that could be right or wrong, good or bad. People must be aware when they are sharing or receiving information on social networks."
"The contest theme this year – Ứng Xử Văn Hóa; Xã Hội Văn Minh (Behaviour in Modern Life) – is very topical," Bang said. "I'm very interested in this theme because it relates to education and children."
Bang, 32, is a designer working in HCM City. He also attended the national contest in 2012, 2013 and 2014. This time, Bang submitted four caricatures.
The two second prizes went to Đỗ Anh Dũng for his work Chung Sức (Join Forces) and Nguyễn Mạnh Tiến for Khi Đời Tư Cũng Thành …. Món Ăn Nhanh (When Privacy Becomes…. Fast Food). Trần Hải Nam and Nguyễn Minh Đông grabbed the third prize for their works Dê Đen Và Dê Trắng (Black Goat vs White Goat) and Trật Tự Đô Thị (Municipal Order).
"Attending the Bamboo Dragon Cup is my opportunity to share experiences and learn from other cartoonists," said winner of the second prize Tiến at the award ceremony. "I refined my themes and drawing style after I attended the contest in 2012. I like this year's theme very much because it is a problem that many people in society are very concerned about."
Tiến also sent four caricatures to the contest which focused on personal behaviour in the era of Industry 4.0.
More than 30 per cent of all submitted works focused on behaviour on social networks. This was the fifth edition of the Bamboo Dragon Cup, which has been held by Thể Thao Văn Hóa (Culture & Sport) since 2007. The contest returned after a four-year break.
"The theme sounds easy but is really difficult. It is abstract theme," said veteran artist and contest jury member Lý Trực Dũng. "At first, the jurors were worried we would not choose the best works. But when it was finished, I was excited because we chose the best ones."
"Social networks, I think, affect many people who become addicted to them," Dũng said. "But bad behaviour still takes place in society more than online. That is why only 30 per cent of cartoonists focused on social networks."
The contest attracted 400 entries by cartoonists from throughout the country. The sixty best ones were published in a book and will be displayed in front of house No. 2, Lê Thái Tổ Street this weekend. — VNS