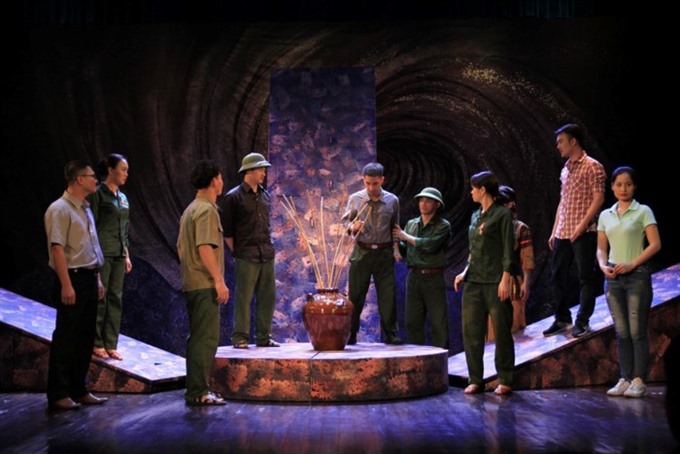 Young actors perform in Bão Tố Trường Sơn (Storms on the Trường Sơn Mountain Range), a play focuses on young soldiers fighting in the mountains during the anti-American war. The play won Golden Award for Best Play at the two-week National Drama Festival that closed in HCM City on Wednesday. — Photo courtesy of the organisers
Viet Nam News
HCM CITY — Three dramas by veteran directors of Hà Nội that deal creatively with social issues were recognised with top awards at the National Drama Festival that closed on Wednesday at the Quân Đội (Military) Theatre in HCM City.
People's Artist Anh Tú of the Việt Nam Drama Theatre and People's Artist Hoàng Tiến Dũng of the Hà Nội Drama Theatre won Gold Medal awards for Best Play at the festival's winning award ceremony held by the Ministry of Culture, Sports and Tourism's Department of Performing Arts.
Tú's Bão Tố Trường Sơn (Storms on the Trường Sơn Mountain Range), a play focusing on young soldiers fighting in the mountains during the anti-American war, was a hit smash with both the jury and audiences at the two-week festival.
The play features the life and love of Diễm Lệ, a female doctor, during and after the war.  
Director Tú employed young talents from the Việt Nam Drama Theatre, including Khánh Linh, Quỳnh Hoa and Tô Dũng, to play leading roles.
"Our young staff offered a new trend on war, a very old topic, and theatre lovers accepted their style," said Tú, adding that audiences will come to the theatre if high-quality shows are offered.  
Tú's colleague, Dũng, prefers contemporary art forms. His play, Vùng Lạnh (Cold Zone), which deals critically with social issues, won the jury's approval.
The works starred veteran actors including Meritorious Artists Tiến Lợi and Công Lý.
The Hà Nội Drama Theatre spent a lot of efforts on using beautiful costumes and dazzling sound and light effects for the play.
Director Nguyễn Sĩ Tiến's Hoa Cúc Xanh Trên Đầm Lầy (Green Chrysanthemum on Marsh) is a new version of the same play written by famous scriptwriter, author and poet Lưu Quang Vũ in the 1980s.
"Vũ's work brings messages that still alive today," Tiến said.
He worked hard to rewrite and direct his versions to meet the taste of young audiences. The play attracted more than 500 guests last weekend.   
Meritorious Artist and director Trần Minh Ngọc of HCM City's Hero Film Company, received a Golden Awards for Best Play.  
Ngọc's Tiếng Giày Đêm (SFootsteps at Night), written by Lê Chí Trung, features family issues in modern life.
The play also brought home Gold Prize for Best Director and Best Scriptwriter, and two Gold Medals for best actresses.
"I received a lot of support from my colleagues, who turned down good contracts from private drama troupes in the city to join my play," said Ngọc.
The judges' panel said that this year, they took into consideration both the quality and commercial appeal of the entries.
Lê Quý Hiền, a member of the festival's organising board, said: "The festival plays by both State-owned and private theatres were serious and dealt with major issues instead of merely focusing on entertainment."
The contest attracted 27 plays in various categories, produced by State-owned and private theatres nationwide. — VNS