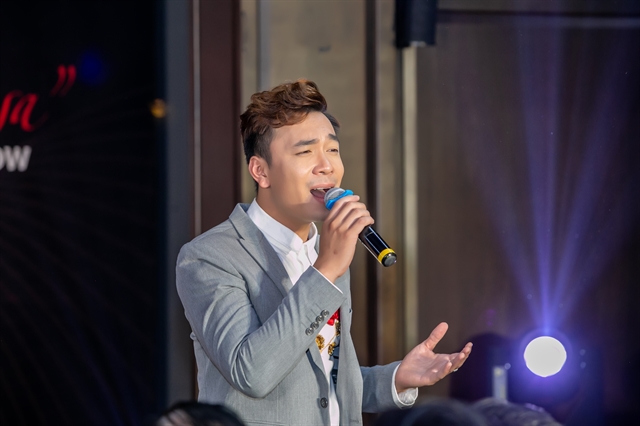 HÀ NỘI —Singer Lê Việt Anh has released an album inspired by patriotism and motherhood to celebrate Vu Lan, a Buddhist festival dedicated for filial duty (this year it falls on August 15).
Nụ Cười Mắt Lá (Smile of Leaves), which has been released as a DVD, contains different genres such as pop, ballad and RnB. Singer Đặng Tuấn Phương (first runner-up of Việt Nam's X Factor singing contest in 2016) and Meritorious Artist Hồng Liên also perform on the album. 
"In this album, I extend the love for my city, country and parents," Anh said.
"Especially, I present a song dedicated to Hà Nội, which is exclusively composed for me by Hoàng Thắng, based on a poem of Khánh Dương.
"The song is presented together with a documentary capturing the landscape of Hà Nội, the city life, traditional handicraft, and people. This is my special gift for the beloved city."
At a press conference held on Saturday in Hà Nội, he also revealed information of a concert to celebrate his musical career.
With the theme of Ước Nguyện Phù Sa (Alluvium's Wish), the concert will comprise different musical genres.
The show will take place at Star Galaxy, 87 Láng Hạ Street, Hà Nội on September 29 with the participation of diva Thanh Lam.
Both the concert and the DVD are directed by Vạn Nguyễn.
Anh entered the Vietnamese performing scene when he became first runner-up of Sao Mai (Morning Star) National Singing Contest in 2011.
The singer was born in 1988. After graduating from the Hà Nội University of Business and Technology, he studied singing at the Hà Nội Art College and graduated with aplomb. — VNS