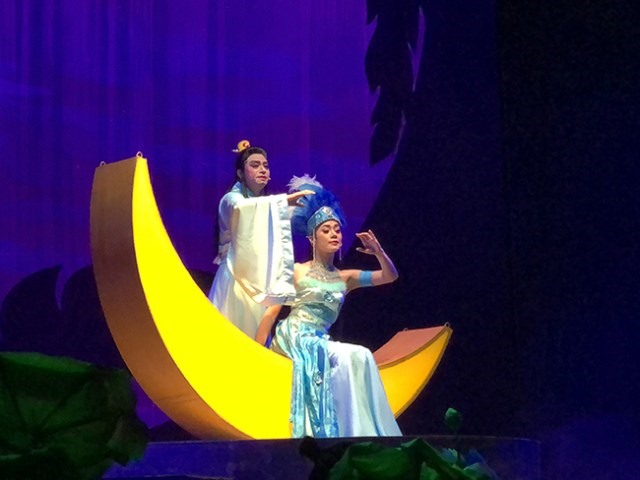 More than 400 artists, musicians and dancers will perform in a four-hour gala featuring cải lương (reformed opera) on Nguyễn Huệ Pedestrian Street in HCM City on Sunday. The event is part of a month-long programme featuring traditional Vietnamese performing arts. — Photo courtesy of the producer
Viet Nam News
HCM CITY — A three-hour gala featuring cải lương (reformed opera) will be held on Nguyễn Huệ Pedestrian Street in HCM City on Sunday (January 13).
The event, which is part of a month-long programme on traditional arts, celebrates 100 years of cải lương, according to the city's Department of Culture and Sports.
It will feature 400 young and veteran performers, musicians and dancers, many of them working for leading State-owned traditional art troupes in the city and southern provinces.
Cải lương stars of different generations, including People's Artist Lê Thủy, Minh Vương, Thanh Điền and Thanh Kim Huệ, have contributed to the art's development.
The artists will perform famous excerpts from historical plays from the 1970s and 80s that are still popular today.  
The excerpts will feature stories about the art's establishment and development.
The event's highlighted performances will be staged by young artists from eight private cải lương and drama troupes in the city.
Excerpts from Thái Hậu Dương Vân Nga (Queen Mother Dương Vân Nga), Chiến Binh (The Soldier) and Rạng Ngọc Côn Sơn (Pearl in Côn Sơn) will feature patriotic themes.
Rạng Ngọc Côn Sơn premiered at the National Cải Lương Festival in Long An Province late last year.
The play revolves around the unjust death of national hero Nguyễn Trãi, one of Việt Nam's greatest politicians and poets.
Meritorious Artist Kim Tử Long, director of Kim Tử Long Entertainment and Service Company, one of the city's private drama troupes, invested VNĐ800 million (US$34,490) in production.
Long played a leading role in the play and won a Golden Prize for Best Actor at the festival. 
"Through our gala, residents and visitors will learn more about the establishment, development and achievements of cải lương," said Meritorious Artist Hoa Hạ, the event's producer and art director.
"Our artists have worked several hours a day in rehearsals. We hope to offer a classic performance style with technology used in cải lương dozens of years ago," she said.    
The gala will start at 7.30pm on Sunday and Monday. The Sunday show will be broadcast live on Hồ Chí Minh Television's channel HTV9. — VNS