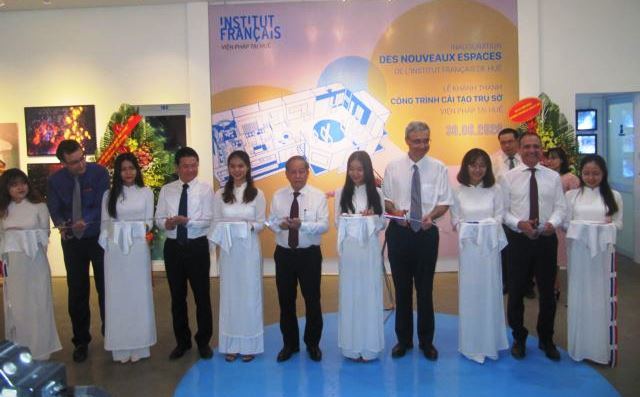 THỪA THIÊN-HUẾ — The embassy of France in Việt Nam, in co-operation with the central province, officially inaugurated the Institute of France after five months upgrading the two-storey building on Lê Hồng Phong street in downtown Huế on June 30.
It's the first open space multimedia library, combined with an education centre and cultural exchange hub in the province, and the fourth institute in Việt Nam after Hà Nội, HCM City and Đà Nẵng.
French ambassador in Việt Nam, Nicolas Warnery, said the Huế-based institute will be a focus in co-operation with Huế and Việt Nam.
He said it would attract young Vietnamese people coming for education opportunities and cultural exchange as well as exploring the culture and language of France.
"France has had co-operation with Huế over the past 20 years since the first Huế Festival was hosted by the province in 2000, and this year the French Embassy will continue supporting the province in organising the festival as well as connecting locals in France participating in the biennial event," Warnery said at the inauguration.
"We hope Huế will be a big centre of culture in Việt Nam in the future, and the relationship between the two countries and the province will be continuously promoted."
The institute will host films, exhibitions, French language studies, tests and educational opportunities for colleges in France.
Étienne Rolland-Piègue, counsellor charge d'affairs in co-operation and cultural activities at the French embassy in Việt Nam stressed the institute will open its doors to all people exploring French culture, language, books and other activities.
The upgrade project of the institute was completed by a Huế-born architect Dr. Bùi Thị Hiếu, who studied in France.
A series of activities have been held at the institute during the inauguration including the Astérix le Gaulois library for children; cartoon screenings; and a photo exhibition by Vietnamese and French photographers – Joseph Gobin and Nguyễn Phương.
A dialogue entitled: French culture influence to modernisation process in Việt Nam, will be held at the institute on July 1. — VNS