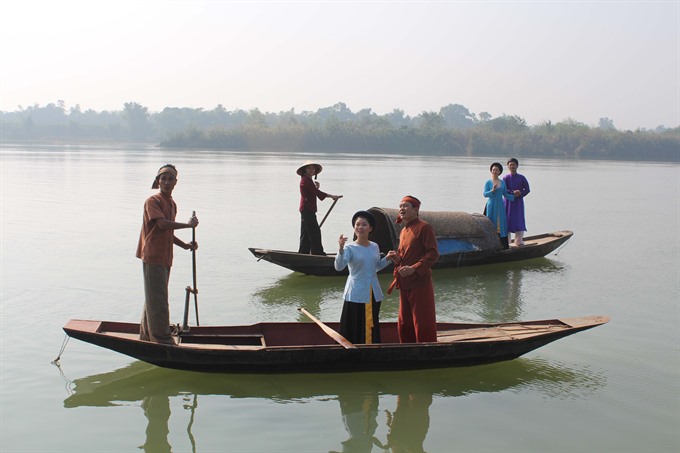 Ví giặm singing performed at a festival in the Central Province of Hà Tĩnh. Many artists will perform at the Việt Nam Museum of Ethnology. — VNA/VNS Photo Tá Chuyên
Viet Nam News
HÀ NỘI — The Việt Nam Museum of Ethnology will host a series of cultural activities to mark its 20 years of operation.
Artists from the central province of Hà Tĩnh will have two performances on today and tomorrow starting at 9pm. They will perform ví giặm folk singing and recite Kiều's Tale by Nguyễn Du.
Ví giặm are the ninth Vietnamese cultural practice to receive UNESCO's intangible heritage status. The vitality of ví giặm folk songs is reflected in their popularity, from lullabies to fishing chants. These folk songs are often sung with the accents of people in the Nghệ An and Hà Tĩnh regions. The folk music is a back-and-forth exchange sung while working, unaccompanied by musical instruments. It reflects the work, cultural life and feelings of the locals in the central coastal provinces.
This type of folk singing is popular in nearly 260 villages in the central provinces of Nghệ An and Hà Tĩnh. The two provinces have 51 singing clubs with over 800 members.
A book on museology and the exhibiting methods of the Việt Nam Museum of Ethnology will be released on Sunday.
Especially, an exhibition entitled Elephant in the Central Highlands will take place on November 25. On the next day, the Mnông people from the Central Highlands province of Đắk Lắk will present their handicraft, traditional arts and singing.
The museum, located at
1 Nguyễn Văn Huyên Street
, Hà Nội, will host an international conference on religion and the identity of different world communities on December 1-4. Many foreign and Vietnamese experts will participate in the event. — VNS