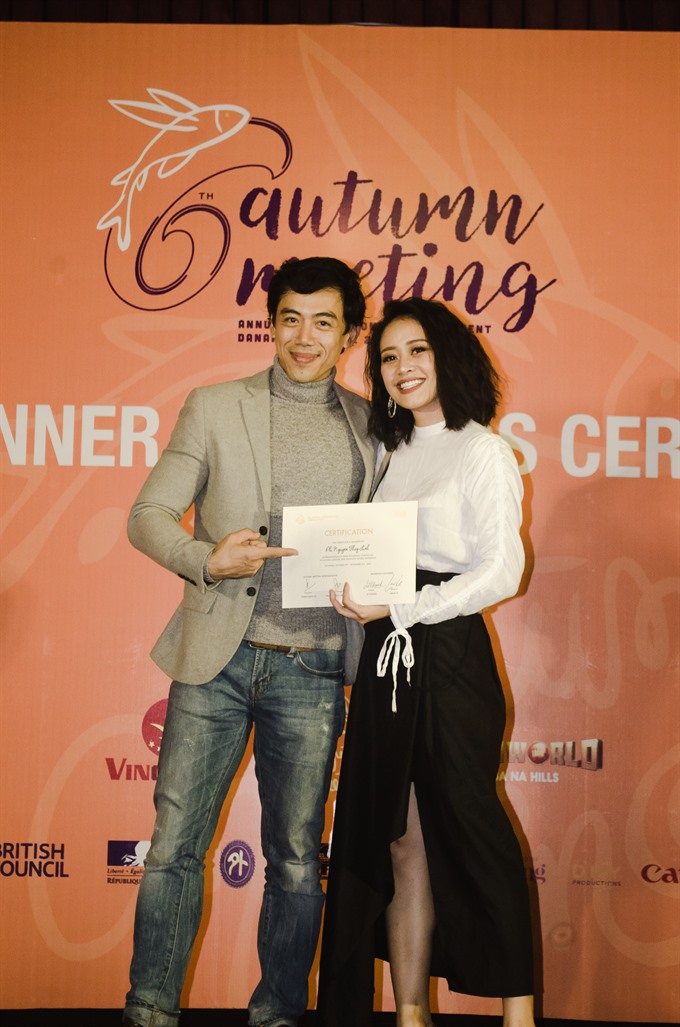 Director Leon Quang Lê awards the prize for best commercial film to Đỗ Như Thư. — VNS Photo Minh Hiền
Viet Nam News
HÀ NỘI — A film project called Handsome Guy For Rent won top commercial film at Autumn Meeting 2018, an international cinema event providing opportunity for young filmmakers in the region.
The sixth annual Autumn Meeting took place in Hội An and Đà Nẵng, attracting more than 100 participants from the host nation as well as South Korea, Hong Kong, Taiwan (China), Japan, Cambodia and Myanmar.
The event enables cinematic exchange between the countries' film industries and offers courses in basic acting, advanced acting, producing, directing, costumes and designing.
Lecturers included director Trần Anh Hùng, actress Trần Nữ Yên Khê, South Korean actress Lydia Park, People's Artist Lê Khanh, director Leon Quang Lê, producer Bảo Nguyễn and producer John Badalu.
Hùng is the only member that has worked with Autumn Meeting since its first edition. He was an Oscar nominee and Cannes Camera d'Or winner in 1993 for Scent of Green Papaya. More recently, he directed the 2010 adaptation of Haruki Murakami's hit novel Norwegian Wood and Eternity (2016) starring Audrey Tautou, Berenice Bejo and Melanie Laurent.
Autumn Meeting holds pitch sessions where young filmmakers can present their projects and ask for investment.
In the category of art film, Fruit Gathering by director Aung Phyoe of Myanmar won the top prize. The film reflects the loneliness of a person and the society of Myanmar. CGV (Cultural, Great and Vital) Group will invest to bring the project to life.
The film Handsome Guy for Rent by Đỗ Như Thư won in the category of commercial film. The film is about the 19-year-old Linh, who suffers from leukemia. Her father hires a boyfriend for her from an online dating service, and before long real love develops between the young couple. Directors Charlie Nguyễn, Lê Thanh Sơn and Phan Gia Nhật Linh, members of the jury, said they agreed to select Thư's project because of its emotional story telling.
Over the past five years, Autumn Meeting has given chances to many young directors. Many of the films it has featured have gone on to international film festivals. The Third Wife by Nguyễn Phương Anh was selected for the Hong Kong-Asia Film Financing Forum (HAF) at the 2016 Hong Kong International Film Festival and received a cash prize of US$20,000. Culi Never Cries by Phan Ngọc Lân received the Hubert Bals Fund for Script Development at International Film Festival Rotterdam. Culi Never Cries and Taste by Lê Bảo were chosen for the L'Atelier Cinefondation at the 2017 Cannes Film Festival. Finally, The Lottery Boy by Trần Dũng Thanh Huy and Cha Cha Cha by Đỗ Quốc Trung were selected for the Asian Project Market (APM) at the Busan International Film Festival 2015. — VNS