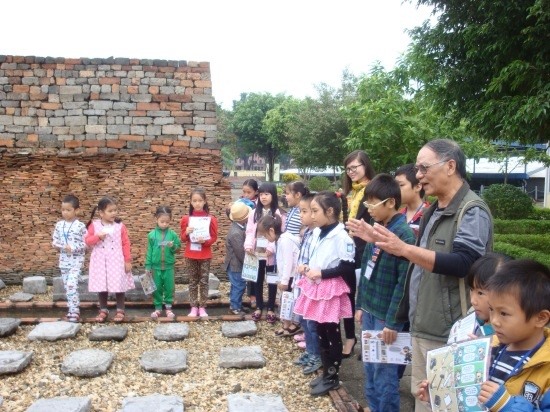 Students join an educational activity about the heritage of Thăng Long Royal Citadel. — Photo courtesy of the Thăng Long – Hà Nội Heritage Conservation Centre
Viet Nam News
By Minh Thu
HÀ NỘI — Domestic and international scientists gathered at a conference in Hà Nội on Thursday to discuss the preservation and continued study of the Thăng Long Royal Citadel in Hà Nội.
The conference also involved discussions of possible methods for promoting the site.
Nguyễn Thị Yến, an expert from the Thăng Long – Hà Nội Heritage Conservation Centre said heritage education was widely disregarded outside of schools in Việt Nam until the late 2000s, when some national sites were recognised on the UNESCO (United Nations Educational, Scientific and Cultural Organisation) World Heritage List.
"Museums and heritage sites help promote cultural knowledge and encourage lifelong learning," she said.
"The centre is aware of the importance of heritage education to the public, especially to young people, and has developed several cultural programs for students at all different levels."
With old approaches to heritage education considered outdated and ineffective, the centre is exploring new strategies.
"By creating an exciting programme that involves learning while playing, the centre helps children become active explorers of their national history," she said.
To be effective, these programmes attempt to engage students' ability to observe, collect and present their knowledge. As a result, they have increased the participation of students as well as teachers and parents.
Tống Trung Tín, chairman of the Việt Nam Association of Archaeological Science, said archaeologists and experts from the centre and the Institute of Archaeology carried out excavations between 2011 and 2017 on an area of well over 5,000sq.m.
"In 2010, when it inscribed the Thăng Long Royal Citadel on the World Heritage List, UNESCO recommended we increase archaeological research in the central sector of the site. This is the most important part of the structure, and yet there was little archaeological understanding of it," Tín said.
"The archaeologists discovered a stratum about four metres thick featuring distinct layers spanning from the pre-Thăng Long period (Lý, Trần and Lê dynasties) to the Thăng Long – Hà Nội period, a time period of thousands of years."
"Among the remains of the structures are thousands of clay, ceramic, metal and wood artefacts which could improve our understanding of royal life during those periods," he added.
Professor Ueno Kunikawa from the Nara Women's University in Japan analysed some areas that were uncovered in earlier excavations at the citadel. He said trying to determine the relative age of the different layers uncovered in the excavation is difficult but revealing.
Kunikawa also said that various projects are ongoing at the site.
"The excavations proved some of our suppositions but, as always, they also raised new questions," he said. "That's why further research is necessary."
Experts from universities and research institutes in China, Japan and Việt Nam participated in the excavations. — VNS