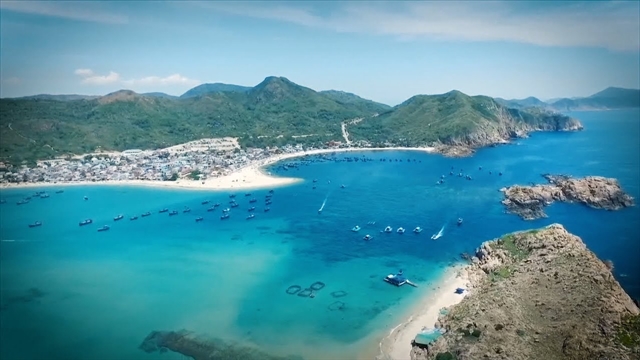 By Thanh Giang
HÀ NỘI — Quy Nhơn, a coastal city in Bình Định Province, is the land of blue sea, white sand and golden sunshine. It is known as one of the most beautiful coastal cities in Asia. Among the famous tourist destinations such as Kỳ Co, Hòn Khô, Cù Lao Xanh, there is Đề Gi – Vũng Bồi.
We had the opportunity to visit Đề Gi – Vũng Bồi before the COVID-19 pandemic hit the country. Đề Gi Seaport and Vũng Bồi Beach both have radiant and wild natures.
Đề Gi is a bay, with a sea gate, a fishing village, beautiful beaches and unique sand dunes. Đề Gi Seaport is located in Cát Khánh Commune, Phù Cát District, about 50km north of Quy Nhơn city centre. We followed the DT640 route to get there.
Đề Gi is not as crowded as other destinations and the natural beauty of the place captivated us. Large and small boats lie on the sand in front of clear and clean water. The water here is divided into three distinct colours. Near the shore, the water is light green and clear. A little further, it turns to jade green. Far beyond the ocean is a deep blue like the sky. 
We took a walk around the bustling port. There was a very beautiful embankment where we could relax and take many nice photos. There were lots of fishermen working. 
From Đề Gi Seaport, we rented a canoe to get to a more remote spot. After 20 – 30 minutes of cruising on the sea, we landed on Vũng Bồi, an island with a picturesque beach that captivated our hearts from the first glance.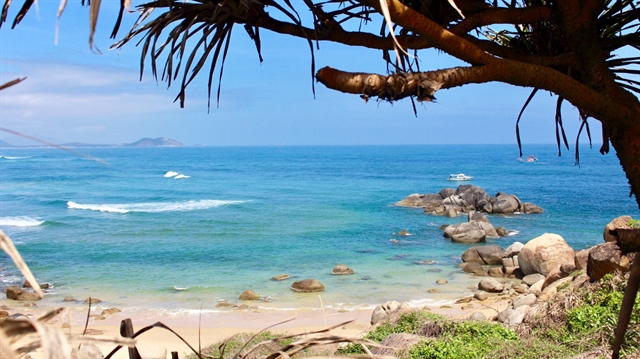 Undulating rocky mountains embrace Vũng Bồi in an arc, creating an extremely beautiful sight. Immersed in the cool water of nature or simply lying on the golden sand, we sipped a drink and relaxed.
We didn't miss the opportunity to snorkel though – the colourful coral reefs here should not be missed. We spent hours diving in the ocean, admiring the beauty of the corals.
After enjoying the coral reefs, we took time to sup (Stand Up Paddleboard). Compared to kayaking, sup is more difficult. But coming to Vũng Bồi, you should try this activity once, as a way to challenge yourself.
Perhaps the most interesting and memorable experience for us on the journey back to Đề Gi from Vũng Bồi was being able to hunt fish right on Vũng Bồi Beach, thanks to the guidance of experienced local fishermen. We were equipped with diving suits, swimming glasses and a stick for skewering the fish. This is a new activity introduced here and is only for those who know how to swim and love adventure.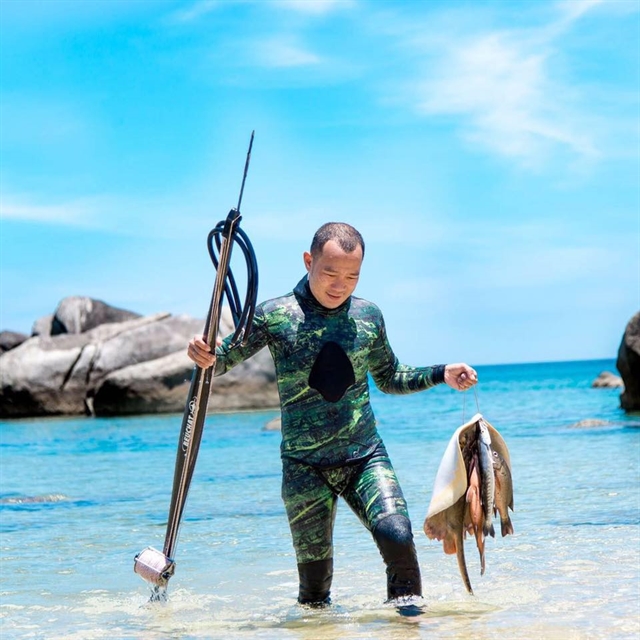 In addition to the experiences on Vũng Bồi Beach, we spent time in the Vĩnh Lợi sand dunes in the afternoon.
From Đề Gi Port to this beautiful sandhill is only about 20 minutes. In front of us, a white cat appeared, lying peacefully on the green sea. We arrived at sunset, and the light at this time was beautiful for taking photos.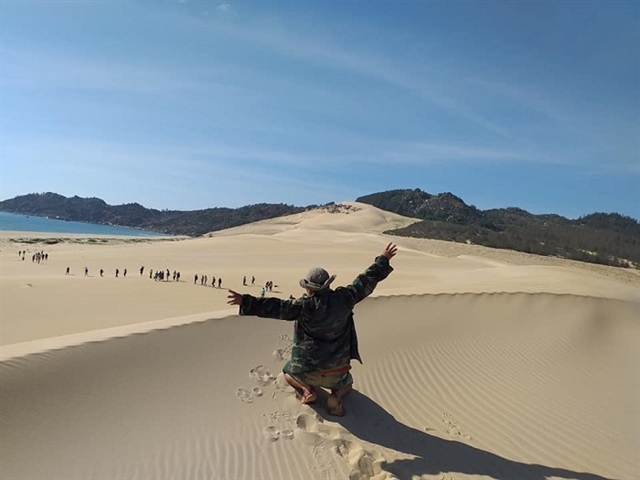 At the foot of the sand dunes, the land is cracked because of the hot summer sun, which creates a unique and interesting backdrop for visitors to take photos.
After a day of fun, we gathered around the red fire in Đề Gi to enjoy delicious seafood dishes. While enjoying the food we were told about the characteristics of each type of snail and fish species.
Đề Gi and Vũng Bồi haven't yet become famous on the tourist map of Việt Nam. However, when you come here once, you will forever be attached to this beautiful land. There is not only poetic scenery but also many interesting travel experiences. — VNS