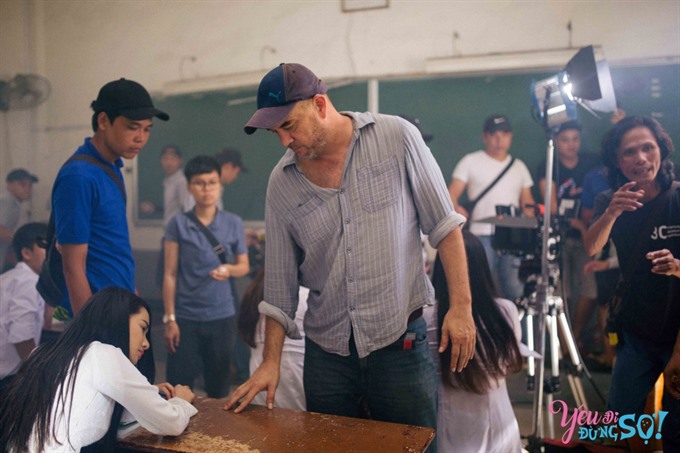 Vietnamese American film director Stephane Gauger of Yêu Đi, Đừng Sợ (Kiss and Spell) died of a stroke at the age of 48, according to a representative from the production team behind the movie. — Photo thegioidienanh.vn
Viet Nam News
HÀ NỘI — Vietnamese American film director Stephane Gauger of Yêu Đi, Đừng Sợ (Kiss and Spell) has died of a stroke at the age of 48, according to a representative from the production team behind the movie.
Colleagues and friends have expressed their shock at the sudden death of the director, as he seemed to be in good health. As recently as a month ago, Gauger was still active with film events and festivals in Đà Nẵng.
"Gauger was talking with friends at his home and suffered a sudden pain in his chest. He went upstairs to take a rest and when his friends came to check on him, he was unconscious. He was taken to the hospital but never woke up. Everyone is shocked," Vũ Quỳnh Hà, a representative from the production team of Yêu Đi, Đừng Sợ told Lao Động (Labour) newspaper.
Lê Hạ Anh, a supporting actress in the film said she was shocked on hearing of his death. Director Phan Gia Nhật Linh said he was sad to have lost a friend who had helped him throughout his career. Linh said Gauger recently moved to live in Việt Nam and had many plans for films.
Gauger, 48, was a writer-director based in Los Angeles. His latest romantic horror movie, Yêu Đi, Đừng Sợ, a remake of South Korea's Spellbound, won an award at the 20th Việt Nam Film Festival in November last year.
Gauger made his feature debut with the award-winning drama Owl and the Sparrow (2007), which was set in Việt Nam and earned him both Gotham and Independent Spirit Award nominations.
He followed the film with the urban drama Saigon Electric (2011). He also directed the 2008 documentary Vietnam Overtures and co-wrote Powder Blue, a 2009 feature starring Jessica Biel, Eddie Redmayne and Forest Whitaker. He was named one of Filmmaker magazine's 25 New Faces of Independent Film in 2007. — VNS