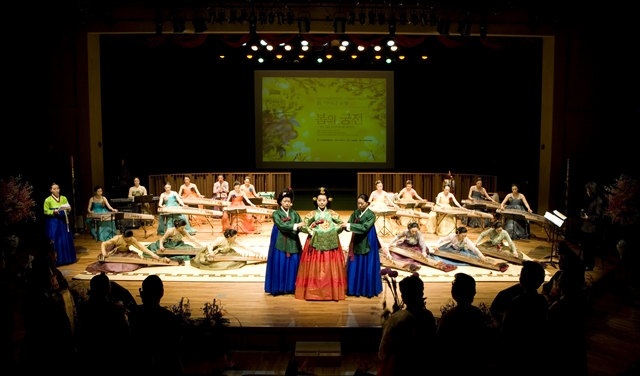 HÀ NỘI — The South Korea in ASEAN Festival will treat audiences to a show of traditional and modern art at Âu Cơ Theatre on November 15.
The event is co-held by the Embassy of the Republic of Korea (RoK) in Việt Nam and Việt Nam Sing, Dance and Music Theatre to introduce the Sookmyung Gayageum orchestra and Expression Crew.
The orchestra will perform its wide-ranging repertoire of music played entirely on the traditional gayageum. 
It is an iconic 12-stringed zither instrument used to play traditional Korean music to hits by the Beatles, South American folk songs, and even a break-dance style rendition of Canon by Johann Pachelbel.
Performing at the festival, the musicians will play Arirang folklore pieces; Gayageum sanjo variation; Gayageum Byongchang; Hwacho – Rarveong; Sae Taryeong; songs Spring of Serenade and Bossa.
Formed in 1999, Sookmyung Gayageum Orchestra has the distinction of being the first orchestra of its kind including 30 female musicians. It has performed in Japan, Sweden, Russia, China, Iran, Indonesia and France.
Expression Crew is a b-boy dance group that is famous for winning Battle of the Year 2002, making it the first ever Korean crew to win the title.
The crew is also famous for its Marionette performance which it will perform at the festival in Hà Nội. The choreography is performed to music by French musician Yann Tiersen. 
The festival is held to celebrate the 30th anniversary of relations between ASEAN and RoK in 2020. The festival also took place in Malaysia recently. 
The festival will begin at 8pm at Âu Cơ Theatre, No 8 Huỳnh Thúc Kháng Street. — VNS