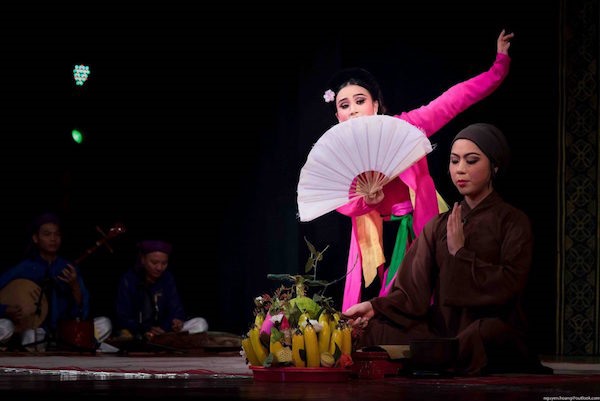 Classic chèo play, Quan Âm Thị Kính (Goddess of Mercy) will be staged in Hà Nội on August 25. — Photo courtesy of the organisers
Viet Nam News
HÀ NỘI — Renowned chèo (popular opera) artists like Thanh Ngoan, Đoàn Vinh and Tuấn Tài will perform together in the classic chèo play entitled Quan Âm Thị Kính (Goddess of Mercy) which will be staged at the Việt Nam Chèo Theatre on August 25.
The version to be staged this time will closely follow the script directed by Trần Bảng – a senior chèo artist – from the late 20th century. It will be a combination of elements from Oriental and Western theatrical arts.
Despite being performed within the limited space of a stage, the play will still incorporate the lively festive atmosphere of an ancient chèo play, which used to be performed on the courtyard in front of the communal house.
Set in the 10th century as a statement about the beauty of love, compassion and selflessness, Quan Âm Thị Kính is a story about the transcendental journey of a young, fair lady to her Buddhahood.  
Chèo originated in the 10th century from folk music and dance traditions, especially trò nhại – simple mimetic skits. These skits showed the lives of ordinary people as well as royalty. 
Over time, writers consolidated chèo short stories based on these skits into longer plays.
To purchase tickets for Quan Âm Thị Kính, contact 0243 845 7403 or 090 295 8187. Tickets range from VNĐ150,000-300,000 (US$6.5-13). — VNS