HÀ NỘI Travel products in the Mekong Delta provinces of Bến Tre and Trà Vinh will be combined to offer more interesting experiences for tourists and create a regional connection in tourism promotion.
A workshop took place yesterday in Hà Nội in the framework of the Việt Nam International Travel Mart 2020 to strengthen co-operation between enterprises in the two provinces and introduce new tours and products.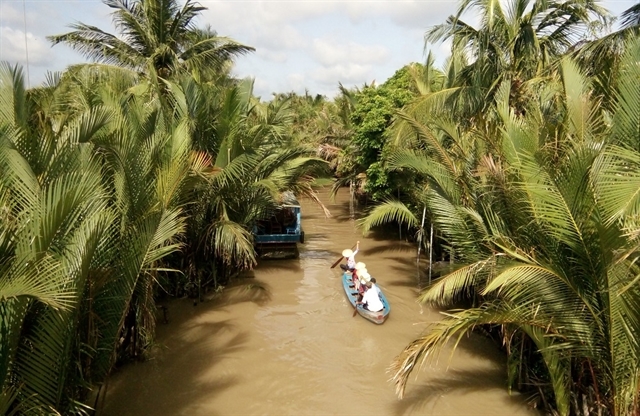 Vice Chairman of Bến Tre Provincial People's Committee Nguyễn Văn Đức said the event was held to introduce images, products, tourism services, and traditional cultural features of the two localities, as well as to promote tourism development, based on the premise of exploiting and using indigenous resources, thereby enhancing the connection of tours, routes, and co-operation in promoting investment in tourism services.
"At the same time, it's a chance to strengthen tourism development links between Bến Tre – Trà Vinh and tourism businesses across the country, especially Hà Nội travel companies," he said.
"In the context of the absence of international tourists due to the pandemic, we have to change the development strategy, not focusing on quantity but quality. I mean, while the number of tourists decreases, if their expenses for tourism increase, we still meet the target of tourism growth."
He also emphasised improving the efficiency and professionalism in tourism activities of the two provinces, the Mekong River Delta and the whole country.
Nguyễn Ngọc Bích, Director of Rustic Mekong Company (Hà Nội), said it's a highlight for Bến Tre to build tourism products related to stories about coconuts and coconut products. He was surprised knowing that Bến Tre is home to 17 different types of coconuts and there are many interesting cultural stories about them.
With experiences in the field of community-based tourism development in Tràm Chim National Park (Đồng Tháp) and Ngã Năm floating market (Sóc Trăng), Bích still wants to build more community-based tourism products in Bến Tre because the tourism potential of this locality is huge.
"Abundant natural resources, favourable geographical location with rivers and gardens can help the province promote community ecotourism, attracting high-class tourists, bringing another highlight to the Mekong River region. It's necessary to build a route connecting yachts from Bến Tre to other provinces in the region to attract tourists with high expenses," he said.
Addressing the event, vice chairman of the Việt Nam National Administration of Tourism (VNAT) Ngô Hoài Chung stressed that governments of the two provinces need to pay attention to develop more tourism products for entertainment, shopping, resort tourism, healthcare and MICE tourism to increase the proportion of visitors spending on services.
He believes that, with the available advantages, the determination of the leaders of the two provinces and the unanimous participation of tourism businesses, Bến Tre and Trà Vinh will be safe and attractive destinations for tourists in the current context.
"The VNAT is committed to always accompanying and coordinating closely with localities to connect and promote domestic tourism, ready to welcome international guests back to Việt Nam as soon as possible," Chung affirmed.
Bến Tre and Trà Vinh are located in the eastern coastal sub-region of the Mekong River Delta, between the two branches of Tiền and Hậu rivers, 80km to the west of HCM City. Bến Tre Province has the strength of river tourism and garden tours. Meanwhile, Trà Vinh Province's strength is community-based tourism with historical and cultural discoveries.
The combination of tourism from Bến Tre and Trà Vinh has enriched the tourism sectors of the Mekong Delta provinces with products that are unique to each locality, creating an attraction for tourists. VNS