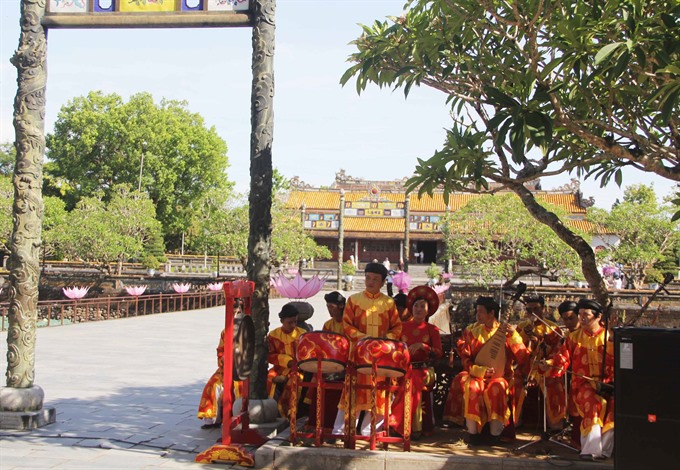 A performance of Huế royal court music (nhã nhạc) in the former Imperial Palace in Huế. Nhã nhạc was the fist intangible item in the country recognised by UNESCO as a world cultural heritage. — VNS Photo Phước Bửu
Viet Nam News
THỪA THIÊN-HUẾ — Representatives of 35 organisations working to conserve the intangible cultural heritage in the Asia-Pacific region are gathering in Huế City in the central province of Thừa Thiên-Huế for discussions.
The 3-day conference opened on Tuesday and is expected to facilitate discussions on fostering the formation of an international network for the conservation of intangible cultural values.
The conference also sought approval from governments in granting non-governmental organisations (NGOs) the right to work independently on the conservation of intangible culture.
The Huế Monuments Conservation Centre, a local government body managing all relics built by the Nguyễn Dynasty (1802-1945) in the province, worked with the International Information and Networking Centre for Intangible Cultural Heritage in the Asia-Pacific Region under the auspices of UNESCO (ICHCAP) in organising the conference.
The centre's director Phan Thanh Hải said the conference hoped to improve understanding around the relationship between intangible cultural heritage and sustainable development as well as the heritage and NGOs.
"Participants at the conference will discuss ways to enhance community education on conserving heritage," he said, adding that the 3-day event would give Vietnamese conservationists a chance to learn from international counterparts.
Vietnamese conservationists had a lot of work to do with a list of intangible cultural heritage in the country recognised by UNESCO, including Huế royal court music, ví giặm singing, xoan singing, and bài chòi art.
According to Hải, the conference would reserve a special session for the review of Vietnamese efforts on conservation of tangible heritage over the last 15 years.
Huế royal court music (nhã nhạc) was the first item of Vietnamese cultural heritage awarded a UNESCO title. At that time, local conservationists worked hard to preserve this royal artform, inspiring the conservation of the Vietnamese items recognised later by the UN cultural body.
The conference is due to end on November 8. It is the second one of its type held in the region, with the first one held in Jeoniu in South Korea in 2016. — VNS