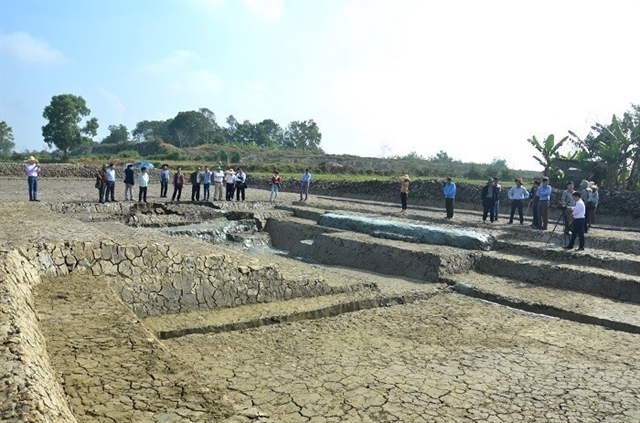 THANH HÓA  Archaeologists have suggested authorities restore a canal system in Hồ Citadel in the central province of Thanh Hóa.
The suggestions were made after a four-month excavation at the site, which started in last October.
Following a decision by the Ministry of Culture, Sports and Tourism, archaeologists from the Việt Nam Archaeology Institute and the Hồ Citadel Heritage Preservation Centre excavated the canal in the citadel.
They conducted research on a total area of 7,000sq.m and found traces of the canal banks, which included clay, laterite and architectural materials, utensils and tools.
They found various objects including small pebbles, fragments of bricks and tiles, copper coins, as well as pieces of ceramic from the Lý (1010-1225), Trần (1225-1400), Hồ (1400-1407), Lê (1428-1527) and Nguyễn (1802-1945) dynasties.
The archaeologists provided information on the overall structure of the citadel, which revealed the existence of a stone workshop at the site.
They stressed the need to restore the canal surrounding the citadel to recreate the original environment, culture and history of the site to further attract visitors.
The excavation will last until April this year.
Based on results of this excavation and previous ones in 2015 and 2016, the researchers have uncovered the form, function and role of the canal.
This is the first time historians be able to confirm the canal is an important part of the citadel. It measures 50-60m in width and 6.8-7.2m in depth, however the length is yet to be established.
Hồ Citadel, also known as Tây Đô, Tây Giai or An Tôn Citadel, is a special structure made of stone, which is located in the communes of Vĩnh Tiến and Vĩnh Long, in the Vĩnh Lộ District of Thanh Hóa Province.
It was first built by Hồ Quý Ly (1336-1407) at the end of 14th century and served as the capital of Đại Việt under the Trần dynasty (1389-1400) and the capital of Đại Ngu under the Hồ dynasty (1400-1407).
The dimensions of the citadel are 870m by 883m.
According to experts, it is the only citadel in the country built entirely of stone that has remained nearly intact throughout the nation's history. The structure is an outstanding example of a new style of construction for a Southeast Asian imperial city.
It was recognised as a World Cultural Heritage site by UNESCO in 2011.  VNS