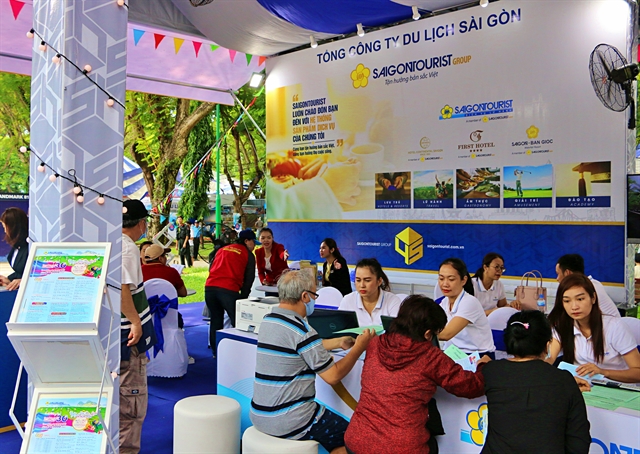 HCM CITY — One hundred and twenty six travel agents, hotels, airlines, and other tourism and travel-related services from 50 cities and provinces have showcased domestic tour packages, travel products and services at 30-70 per cent discounts at the 16th HCM City Travel Fair over the weekend.
The annual fair enabled travel agents and tour operators to introduce their new products to customers, Trần Hùng Việt, chairman of the HCM City Association of Tourism, said.
A number of tours and travel services were sold right on the first day of the fair, a good sign for the domestic travel market, he said. 
Bùi Tá Hoàng Vũ, director of the city Department of Tourism, said small and medium-sized travel firms, both inbound and outbound, were struggling to recover due to the COVID-19 crisis.
The event, which offered a wide range of discounted tours and travel services, would stimulate domestic travel demand and help travel and tourism businesses stay afloat even as international tourism remains closed, he said.
Stimulus programmes had resulted in an apparent recovery in domestic travel, he said.
Many tour packages were offered at 50 per cent and more discounts including HCM City – Vũng Tàu at VNĐ199,000 (US$9) per person, Tây Ninh – Bình Dương at VNĐ1.5 million (65$), Củ Chi tours at VNĐ119,000 ($5), and hop-on-hop-off buses at VNĐ149,000 ($7).
Dozens of tours between HCM City and the Cửu Long (Mekong) Delta were on offer at discounts of 30 per cent.
Nguyễn Thị Loan, an accountant who lives in HCM City's District 5, was looking for tours to Nha Trang or Phú Quốc since her children were in their summer break and love beaches.
"With reasonable prices for five-star hotels and airfares, it is a good time to travel domestically to explore," she said.
Vietravel is offering 8,000 tour packages for this summer with gifts and discounts thrown in at the fair.
The company expects to sign up 250,000 tourists.
Saigontourist is offering hundreds of products with attractive discounts.
The event, held at Lê Văn Tám Park in the city's District 1, was accompanied by the international Gastronomy Festival. — VNS