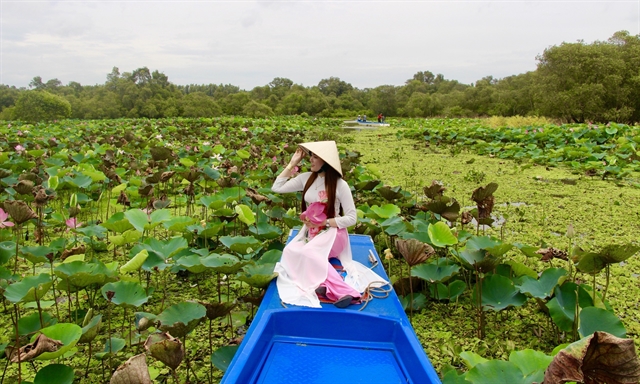 AN GIANG — The Cửu Long (Mekong) River Delta province of An Giang plans to promote co-operation with HCM City and Mekong Delta provinces to help revive the tourism sector.
Nguyễn Khánh Hiệp, director of the province's Department of Culture, Sports and Tourism, said that one of the province's major missions for the rest of the year is tourism recovery.
The province will work with HCM City and Mekong provinces to launch new tours to its religious, cultural, and architectural sites, natural landscape and tourism areas such as the Óc Eo archaeological and architectural site, and the Trà Sư mangrove forest.
Tours to its famous border markets like Châu Đốc and Tịnh Biên will give visitors a chance to shop for quality products at affordable prices.
Hiệp said that new tours would attract more visitors to the province during year-end holidays.
Lê Văn Phước, vice chairman of the provincial People's Committee, said that due to the second COVID-19 outbreak, An Giang cancelled this year's Bảy Núi (Seven Mountains) Ox Racing Festival, which had been scheduled in October.
The festival is part of the Sene Dolta, one of the most important annual festivals of the Khmer community in the southwest region, along with the Chol Chnam Thmay (New Year) and Ooc Oom Bok, a festival honouring the moon for a good harvest.
The oxen racing festival commemorates the merits of the Khmer's ancestors and hopes for happiness and peace for their souls. The event is held from the 30th day of the eighth lunar month until the second day of the ninth lunar month each year, falling on October 16-18 this year.
During the event, the Khmer pay tribute to their ancestors and take part in activities with traditional songs and dances after a year of hard work.
In April, a project was approved to preserve the Bảy Núi ox racing festival, worth VNĐ5.8 billion (VNĐ249,500). The project aims to elevate the festival into an international event, attracting participants from ASEAN.
According to the department, the outbreak of COVID-19 in mid-July caused a loss of VNĐ13 billion (US$561,000) for the province's tourism sector.
The number of arrivals in the region in the first eight months of the year was 4.8 million, a drop of 40 per cent compared to the same period last year.
The number of foreign visitors was 14,100, a year-on-year decrease of 78 per cent.
Tourism revenue in the period reached VNĐ3.06 trillion ($132 million), a fall of 34 per cent against the same period last year. — VNS