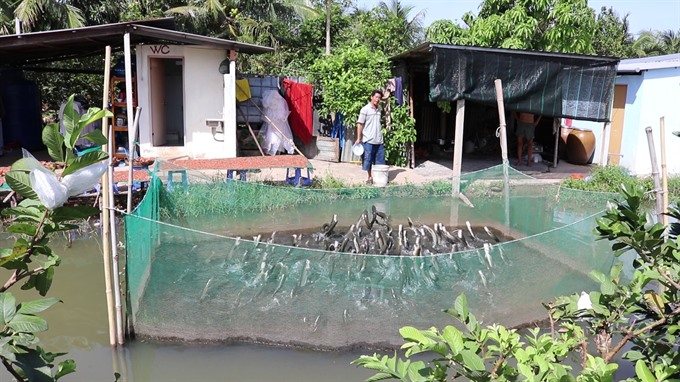 Tín gave the fish fresh food but later used processed feed to encourage them to jump out of the water. — VNS Photo Văn Châu
Viet Nam News
Văn Châu
CẦN THƠ — Lê Trung Tín, a farmer in the Cửu Long (Mekong) Delta city of Cần Thơ, makes a good living, training a bunch of snakehead fish to leap out of a pond.
Tourists often visit to see the fancy trick and later eat a tasty meal made of the fish.
Tín, whose pond and house is located on Cồn Sơn (Sơn Islet), has bred the fish for 20 years.
Initially, he gave them fresh food but later used processed feed to encourage the fish to jump out of the water.
Gradually, the fish began to "fly" up to 40 to 50 centimetres above the water to catch the food.
"Unlike other snakehead fish which often dive deep underwater, my fish leap from the water to snatch their food," Tín said.
Before he began training the fish, he sold all of them before Tết (Lunar New Year) holiday every year, earning about VNĐ200 million (US$9,500), with profit of about VNĐ90 million.
But now he keeps some of the trained fish as a tourist attraction.
Visitors can watch the brief show, then eat dried snakehead fish afterwards.
"The meat from the flying snakehead fish is more delicious because they jump out of the water every day, which develops their muscles," Tín said.
Tín also sells papaya and guava to visitors to add to his income.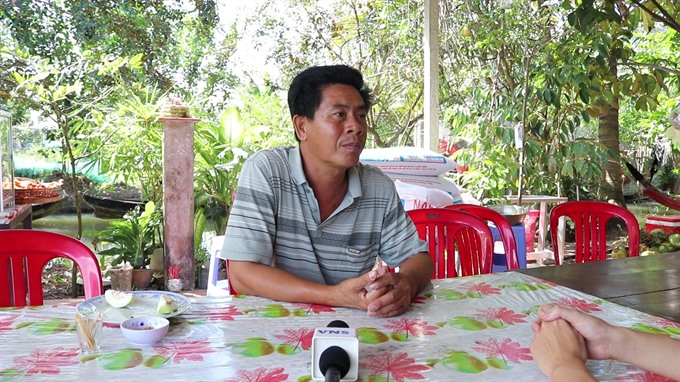 Lê Trung Tín, a farmer in the Cửu Long (Mekong) Delta city of Cần Thơ, trains his snakehead fish to leap out of a pond to catch their food. — VNS Photo Văn Châu
Lê Thanh Tú, a visitor from HCM City, said he enjoyed the flying fish and the meal, and wanted to visit again next year.
Rustic dishes also include grilled snakehead fish and field crab hotpot.
Situated on the Hậu River, a tributary of the delta, the 67ha Sơn Islet attracts tourists with its serene setting, fresh air, fruit orchards, floating houses and delicious traditional southern cakes made by locals.
It has around 100 farming households that offer homestays where tourists can experience the life of a farmer, catch fish in a pond and make dishes and cakes with their hosts.
About 50 families living on floating houses farm fish in cages, where tourists can feed the fish and spend a night in their houses.
The area is 600 metres from the riverbank and takes only five minutes to reach by boat from the Cô Bắc boat station.
The islet is located in Bùi Hữu Nghĩa Ward in Bình Thuỷ District, just 6km from Cần Thơ City's Ninh Kiều Wharf.  
Tourists to the area often visit just a few places to explore cake-making, watch flying fish, walk in the pomelo garden, row boats, and walk on countryside roads to experience the culture of the locals.
Tourists pay VNĐ10,000 (50 US cent) for each sightseeing spot. They can also buy Năm Roi pomelo and green-skinned pomelo for VNĐ35,000 and VNĐ50,000 a kilo, respectively, while snakehead fish is priced at VNĐ120,000 a kilo.
Cần Thơ City is about 160km from HCM City. From the Western Bus Station in HCM City, visitors can catch a bus for VNĐ120,000 ($5) to Cần Thơ. It will take about three to four hours. 
The city enjoyed strong growth in tourism last year when international political and cultural events as well as traditional festivals were held, according to its Department of Culture, Sports and Tourism.
Last year, the number of tourist arrivals surged 40 per cent to 7.5 million, while tourism revenues rose 61 per cent to VNĐ2.9 trillion ($127.6 million). — VNS